Joined

4 Jun 2021
Messages

3,861 (4.56/day)
Wow, I'm all for big coolers that are very quiet and efficient and my last few graphics cards have all sported these. Three slots is enough to do the job in my experience, but four slots is insane. Even though this has a top notch Noctua cooler on it, I'd likely still pass on it if I were in the market for a graphics card now. On top of this, it's only the 10GB RTX 3080 version, not the improved 12GB version and the 4000 series aren't so far away now. Paying a grand for this doesn't seem reasonable to me.
Also, why that awful brown colour? It might be considered iconic, but it's still not to a lot of people's taste. Noctua have since released black and grey versions of their fans, so why not use those, at least as an option?
I have a Noctua NH-D14 and while its performance is superb, even after 11 years of solid use, that colour continues to be a bit of an eyesore.
Read more and view more pictures at
videocardz.com
.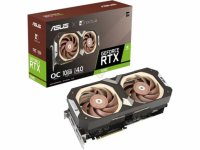 4 slots... would you want to take up this much space in your PC when 3 slots works just fine?