Joined

4 Jun 2021
Messages

200 (0.24/day)
Here is my A1200, I purchased this a few years ago pretty much in the state you see it below, minus the floppy drive which
@RobA1200
kindly donated.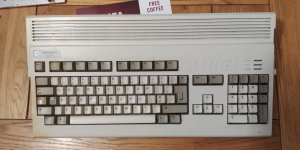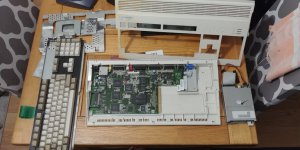 The case looks better in the photo than in person, there is some uneven yellowing on the left side of the case and keyboard. At some point screws that were too long have been inserting along the bottom edge causing the three bumps you can see in the photo. One thing to note, the whole machine came with a single screw holding the systemboard in, nothing else, no case screws. Also missing is the cable to connect the case LEDs to the systemboard.
When last tested the system did boot ok but I need to do a full test of everything. Hoping to do this next GCC meet. It's a 1D4 systemboard which I understand is one of the last Commodore made boards. The board itself looks clean and in good condition. Assuming all tests ok, next step is to get it recapped.
My plan is to then install it in my Checkmate A1500 Plus. I backed the case on the original kickstarter and kept flip flopping between installing an A500 Plus or the A1200. Since the A1200 case is in poor condition and missing a number of small parts I've decided to go that route for now. The Checkmate will also allow plenty of space for upgrades. I'm not planning to utilise the original keyboard, my preference is to connect a modern mechanical board perhaps with the Amiga style key caps that Stephen Jones has produced.
As for upgrades, beyond sorting a USB keyboard adapter this is more or less a blank canvas. I don't have much history with the Amiga so it will very much be a learning experience. With this in mind I would be aiming for a couple of upgrades to bring it up to a standard where it's convenient to use in today's world such as a Compact Flash card for storage in place of a HDD and maybe an upgrade to get a HDMI output. An accelerator is on the cards but I need to get familiar with the system and fully understand what an accelerator will enable the system to do over stock before choosing one and taking the plunge as none of them are cheap!
Lots of things to think about, first step is to check the thing actually works and the above isn't a moot point. I'll report back how this goes. Any suggestions for basic quality of life upgrades would be appreciated.