Joined

24 May 2022
Messages

968 (1.97/day)
Putting aside the obvious jibes like Zahawi claiming thousands in taxpayer-funded expenses for heating his fucking stables, I give you this tweet.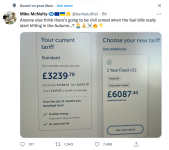 I think this sums up the state of play since the last price hike permitted by the government in April - when it wasn't 'so bad' because it was edging toward summer and heating is less relevant. But coming into the autumn when it's getting colder...
I genuinely think it's going to turn nasty in the winter if the government don't get a grip and do something that ordinary people can see the benefits of.