We don't normally talk about sport on NerdZone, but it's a valid subject if one wants to. In this case, football reffing is finally addressing something that's been bugging me for a long time now when I watch the Premier League and other top football competitions: the bad behaviour of footballers who really should know better, especially given their inflated wages. How does £400 grand
a week
sound for the very top players? Money and living standards most of us can only dream of. You'd expect top notch professional behaviour and performance at all times for that amount of money, wouldn't you? That's not we get though.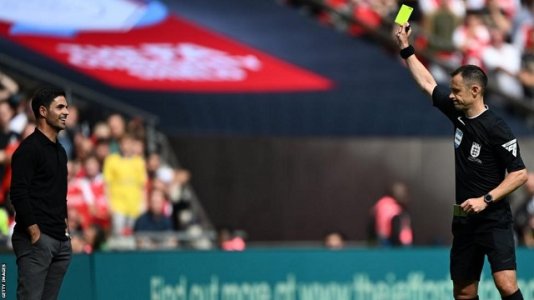 Mikel Arteta getting booked under the new rules for demonstrating an opinion about a yellow card. He was bemused by it
and so was I.
This is long overdue. I've never thought it acceptable that these so-called "professionals" paid millions to kick a ball around a field should be allowed to get away with behaving so badly. Things like shirt pulling, playground style aggression, intimidating the ref, "professional" fouls and lots more need to stop.
I look forward to this year's Premier League with these new rules in effect. I guess we're gonna see quite a few red cards and lots of yellows until players start realising that they can't get away with this like before. And the ones who can't control themselves might well find their careers limited when they start getting lots of red cards and the consequent multi-game bans.
Reffing consistency and judgement must improve over time though and I think it will, but controversy around decisions will always be there to some degree unfortunately, for reasons like no two situations are exactly alike, real-time calls (helped with video evidence and VAR refs), ref bias / bad day, ref personality, quality of video evidence, incident marginality, etc.
However, let's say consistency never improves as the worst case scenario, I think it will still help, because players will know that they're less likely to get away with it overall. This will improve the overall gameplay and entertainment value for the fans, who pay top dollar to watch these games at the stadiums or on TV.
I think this year's Premier League will be very interesting to watch and I reckon also controversial as everyone weighs in with an opinion, myself included!
Referees' chief Howard Webb says he is "determined" officials do not "turn a blind eye" to bad behaviour from players and coaches this season.

Last weekend saw the start of a bid to stop the sort of behaviour Webb said has been "managed" or "ignored" before.

Almost double the usual number of yellow cards were shown over the first weekend of the EFL season.

"I am determined this won't be something you only see during the next few days and weeks," said Webb.

Arsenal boss Mikel Arteta was booked for waving an imaginary yellow card during the Community Shield win over Manchester City following a tackle by Rodri, while West Brom manager Carlos Corberan has been charged by the FA after being sent off in his side's opening day defeat at Blackburn.

Players were also booked for kicking the ball away amid a clampdown on time wasting.