Joined

13 Jun 2021
Messages

151 (0.17/day)
Since it's about toys and tech, and I collect the former far more than the latter, there's a good chance I'll be popping a few bits and bobs in here. I've got a couple of blogs for keeping track of such things fully, but I guess it might prove interesting to pop the occasional item in here as well. The main focus of my addiction to Plastic Crack is TransFormers, which I've collected since they arrived on these shores in the early/mid 1980s, was a member of the Collectors' Club from 2007 till it closed in 2016, and signed up to Hasbro Pulse earlier this year in the hopes of feeding my addiction with some sweet, sweet exclusives. Been disappointed so far but, hey, the Collectors' Club took a few years to find its stride.
I also love action figures generally - the more highly-articulated, the better - and have a weird fixation on motorised/clockwork toys... In fact, I might go so far as to say I prefer (some of) those to more modern electronic toys with their LEDs and screechy sound effects.
I'll start with this little fellow - Perfect Effect's PE-DX10 Jetforce Revive Commander - who was a birthday present from my folks this year: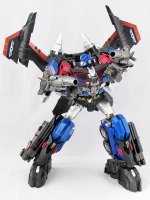 Looks somewhat familiar, right..? But probably not so familiar as in his basic form or vehicle mode...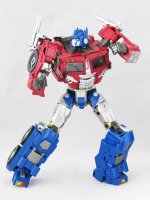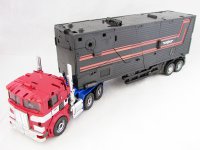 Quite a cool take on 'Truck Daddy', mixing G1 and Bayverse aesthetics into something fresh, yet familiar. It's effectively a homage to both Powermaster Optimus Prime/Super Ginrai/Godbomber and Optimus Prime wearing pieces of Jetfire's corpse at the end of Revenge of the Fallen. Fairly simple transformation for the cab, but the trailer splits into four parts (plus accessories plugged into the interior) and is a bit of a pain to reassemble.
Perfect Effect have a mixed history with their output. Their upgrade sets have been largely great, though a little unimaginative sometimes. Their standalone figures have been quite patchy. Early ones were a little flimsy, some more recent ones have been hopelessly fragile. Thankfully, this one feels quite sturdy.
Last edited: