Joined

4 Jun 2021
Messages

110 (0.12/day)
So, as I mentioned on WhatsApp, I've ordered a Vampire V4 Standalone in order to finally scratch my Amiga itch properly. I just can't bring myself to spend truly insane money trying to rebuild what I had before, and while emulation is OK, it's often fiddly and feels more like you are playing a video than running an actual computer. Being FPGA based like my Spectrum Next, N-Go and Ultimate 64 Elite, I'm hopeful for a more realistic big-box Amiga experience, with extra bells and whistles on top of it (like the other FPGA machines), rather than them compromising the experience (like emulation often does).
Meet Apollo Accelerators - the best line of CPU cards for Amiga computers. Discover V1200 V2, a new CPU Accelerator for AMIGA A1200 with 128MB RAM and built-in RTG. Excellent Apollo 600 V2 will bring your Amiga 600 to the NG level of performance thanks to latest 68080 processor. We also offer...
www.apollo-computer.com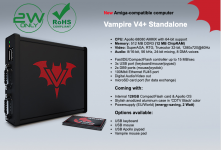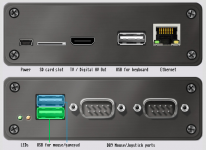 Bit of a shaky start - got the invoice through from Apollo this morning and they completely ignored my order and invoiced for the top-tier Ultimate Fan bundle (which includes a German QWERTZ keyboard - don't want that, a polo shirt - even in the biggest size probably won't fit, a baseball cap - I hate wearing caps and hats). I asked for the Light bundle, which is the Vampire, CF card, power supply, USB joypad, USB mouse, mousemat (meh - may as well). I will supply my own keyboard in proper UK or US layout.
Also in the process of emailing Steve Jones at iMica to ask him to change my Checkmate 1500 Mini order (replacing the Pi4 fitting kit with the Vampire one). The other thing I have concluded is that it's definitely pointless putting a Pi in such a case, especially when the Argon One v2 case really is the best Pi 4 case out there. So keeping the Pi in that case, and will use the Checkmate for the Vampire to give it that Amiga big box look and feel, albeit in black rather than beige.