Joined

13 Jun 2021
Messages

151 (0.18/day)
No, I promise, we haven't warped back to April 1st, this is an actual thing. Following on from crossovers with
Star Wars
,
Back to the Future
,
Top Gun
and
X-Men
, we have
Jurassic Park X TransFormers
, in which the (broadly excellent) new version of
Beast Wars
Megatron gets a more 'realistic' paint job, a new head and a new name...
...only to be packaged with something that looks like a pound shop knockoff, or the sort of transforming robot toy you could find in the London Zoo gift shop: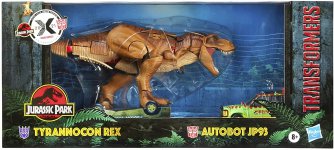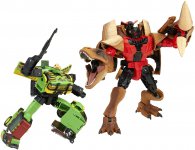 Currently looks as though it may be an Amazon exclusive in the States - which will mean it'll soon disappear from their listings, and its UK release will be repeatedly delayed - and is due for release in early November, at a whopping $105. Assuming a UK release even happens, that'll translate as £105, if not more...
I kinda like the T-Rex - its robot colourscheme is a homage to the
G1
Dinobots - but not so much that I'd pay that sort of money for the set.