Joined

24 May 2022
Messages

968 (1.97/day)
So I've been playing with Midjourney. It's an "AI" such as we can call it (it's artificial, I'm not convinced about intelligent!) but it's certainly
neat
for making images.
What happened was, we've been playing around with AI apps just messing about with avatars and I happened to mention Midjourney to my wife. She suggested a prompt for it based on half-remembering the plot of one of my video game ideas, and I plugged it in and, well, the reaction was 'I want this, as a game, as a book, WANT'.
The prompt:
a technologically advanced ancient Egyptian tomb full of cybernetic equipment, fantasy, science fiction, blue glow
The result: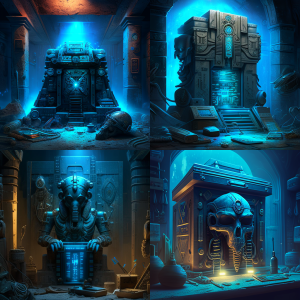 We've both made a few hundred images by now, tweaking, experimenting... is the tech ready for prime time use? No, it's not Star Trek, it doesn't get it magically right, and *often* gets it hilariously and spectacularly wrong, but as a source of imagination and ideation, it's amazing.
This is the first I've been *excited* about any of this AI nonsense, because it's genuinely doing something *interesting*. It's not going to replace artists in 5 years, no matter what the hypesters say, but as a free-flow imagination tool... it's something interesting.
---
UPDATE BY RETRO 02.01.2023
If you'd like to try Midjourney, it's available here.
An independent research lab exploring new mediums of thought and expanding the imaginative powers of the human species.
midjourney.com
Last edited by a moderator: