I harped about realism in my prior article however this is something that is a little bit more nuanced. When I was young I played Rainbow Six Vegas with my friends all the time. I've actually played Rainbow Six Seige, and there's a fundamental difference with the two and realism. Realism is centered on physicality, and Seige lacks a feeling of weight that Vegas offers through slower movement and paired down gameplay (in comparison).
Vegas was a slow burn for me, a great game, though I only really started playing it a few years after playing it with friends. I have a hard time creating new words to describe nuances within realistic design. Vegas isn't arcadey in any sense, however the game itself is. The idea that experienced SF members clear out entire cartels and such solo is such a huge amount of fun. Truthfully most people in the real world can't do gymnastics while shooting and Seige lacks the fun of knowing that you
might not
be able to spin around and execute a perfect 360. There's a level of danger, because it's a lot more slow, and with that risk comes a level of give and take, bringing to the game a sense of interconnectedness.
If my image shows properly, you could also customise your character and had a lot of options additionally for specs. All around a fantastic game, and the right game at the time for the emergence of Halo and Call of Duty in the public eye. I remember my first Terrorist Hunt experience with my friend where we were straight up scared for our lives when not being able to predict if the next corner would have another shotgun-wielding cartel member. It made me want to actually get good, because other people would be experiencing it the exact same.
On a macro level it's about the realism that's assumed within the game at first which makes Vegas my favourite and among my favourites of all time.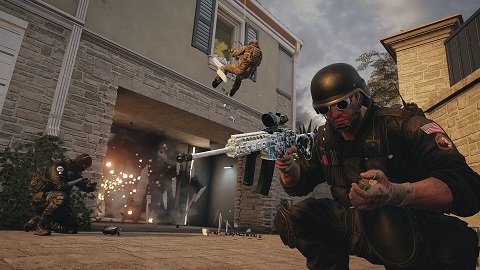 Screenshot of Rainbow Six | Siege