Joined

4 Jun 2021
Messages

3,873 (4.57/day)
Anyone remember batterygate with the Samsung Galaxy Note 7? They ended up discontinuing that model because of it. Now, it turns out that loads of Samsung models have this problem, including the recent S20. The rate of failure is much higher than other brands. I'm not sure why this problem isn't making headlines around the world and flying lawsuits, but perhaps it should be. I've never bought a Samsung phone, but now you can be sure I never will. What's worse is that this is coming from the world's biggest smartphone manufacturer besides Apple.
I've always advised people with devices of any brand and type* that have swollen batteries to stop using them immediately as they can go off like a firebomb with the potential to kill or cause serious, life changing injuries. This is confirmed by the iFixit statement below. Read the whole statement, not just the highlighted text.
Watch the video from 7:34 to see that warning and commentary from Mrwhosetheboss, or from the start for the whole story (recommended).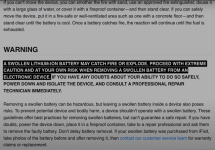 *Smartphone, tablet, laptop etc.