Joined

4 Jun 2021
Messages

110 (0.13/day)
Why fight one battle when you can be fighting on two fronts at once?
As several people know from our WhatsApp discussions, I drunk bought an Amiga A600, the most pointless and hated of all the Amiga models. That Amiga A600 turned out to be a dumpster fire, as it had a 1MB Chip Ram expansion inside with a VARTA clock battery that had leaked spectacularly! The damage to the board, and the on-board chip ram, was substantial and everything was coated in battery acid. This morning, that one was returned to the seller and I am expecting a full refund.
However, it did pique my interest in the A600, and so when another keenly priced example turned up, I went for it. This one turned out to be in good condition, and had been clearly cared for by its previous owner.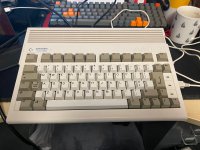 Keyboard is in great shape, apart from a very small amount of dirt and some of the previous owner's DNA. Easily cleanable. The case is also in good shape. Next to no yellowing, tiny bit of dir inside and out (and nothing that can't be fixed by a few mins in the kitchen sink.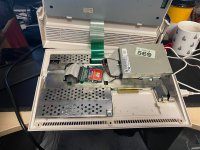 As expected, most of the case clips have broken. This is sadly a common problem as the A600 clips are even more fragile than the A1200 ones. The A600 case clips are more akin to the hook clips found on most breadbin Commodore 64 cases (which also break just by looking at them). A 3D printed clip repair kit has been ordered. These glue in place over the top of the original clips using some decent epoxy and do a much better job. Especially on the right hand side of the case (where the floppy drive is) as a single case clip holds the entire right side of the case closed (there's no screw post on the A600, on on the 1200).
Other things to note - the top shielding is still in place. Very rare on a A600 as even Commodore stopped fitting the top shielding eventually, not to mention that most owners back in the day tossed the top shielding to make room for a Fast RAM upgrade or an accelerator. The hard drive cradle is missing (but I have a spare) and the previous owner fitted a 4GB CF Card in place of a hard drive. This machine also has a replacement floppy drive. The raffle ticket is a signature trait of a known eBay seller called Retro Pixels who specialises in reselling used, working Amiga floppy drives. On the plus side, the drive works, is in good condition and is the correct model for the machine.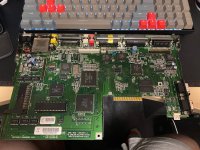 No corrosion, and the only damage is the broken arm of the PCMCIA slot. that combined with the bent pins inside suggest it had something plugged in that was subsequently knocked. Either way, cheap to have replaced when it goes off for recapping. The expansion edge connector appears to be unused.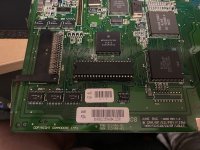 It is a 1.3 revision board. Known to be a bit stroppy with some ACA accelerators, but otherwise OK. As I plan to only fit a Furia to it, I should be fine. FYI, the battery acid damaged one was a 1.5 board, known to be a bit better, but mostly in terms of accelerators. Everyday usage on the A600 is the same across all versions.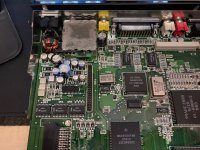 IDE connector is in good shape. RF Modulator top is a bit tarnished, but that doesn't matter as I will be having the RF modulator removed completely to make room for a HDMI output.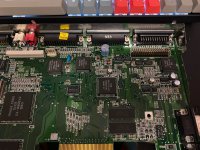 Floppy connector is also fine. No obvious leakage from the caps and no bad smells. But, it's going off next week for capping anyway.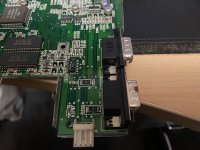 There are a couple of very small rust spots on the outside of the 9-pin mouse/joystick D connectors, but nothing to warrant replacing them. I suspect most of this will come off with an ultrasonic bath and a bit of brushing.
Fortunately, dragging this machine up to date won't be as big or expensive a project as the A1200. First priority is recapping (which will also include an ultrasonic bath, a new PCMCIA port and removing the RF Modulator). Once back, I'll add a 1MB Chip Ram expansion with RTC to the edge connector. Finally, I will eventually add a Furia 020 accelerator with 8MB of Fast RAM. I also intend to remove the floppy drive and replace it with an internally fitted Gotek (which I already have).
While the motherboard is away, the case top and bottom will get a much needed clean, as will the keyboard and its keys.