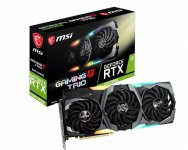 See bottom for update.
I keep having to RMA the damned things since they fail after a short time. I want to say upfront that all these cards have never been overclocked and for the vast amount of time are just sitting there, rendering the desktop, so are hardly stressed at all. The CPU does have an overclock, but a pretty small one. It's a 2700K running at 4GHz with 16GB RAM in two sticks.
My last high end card which still works properly, is the ancient
MSI 780 Ti Gaming
that I've got (I have two for SLI goodness at the time). Both still work flawlessly today, even after a lot of use.
In 2017 I upgraded to a
Palit GTX 1080 GameRock Premium
. Great card and great performance while it worked for the first couple of months, then went intermittent and eventually died completely. An RMA replacement was DOA, so I got a refund.
I then got a top end
Zotac GTX 1080 Amp! Extreme
. Huge card with an amazing cooler and great styling. Had a design fault with the fans around the stop mode, where they would keep starting and stopping around the fan stop point as the card cooled down from 3D mode. The card was quiet, but I could hear it as a "breathing" sound which made it very distracting. At just under two years old, the card died as in no picture and I thought I'd lost £550. However, Amazon immediately gave me a full refund, didn't even want to know what the problem was. Great customer service.
I then went back to my trusty 780 Ti as I was waiting for the new RTX series to be released by this point. It was somewhat short on performance for modern games like Call of Duty though, so really wanted to upgrade it soon.
March 2020 I buy the normally excellent
MSI RTX 2080 SUPER Gaming X Trio
. It's an absolutely huge beast of a card, that barely fits in my large case. It has great performance and has a superb cooler with fan-stop which doesn't make that stupid breathing sound. Cost me around £740, rather more than I was comfortable paying for a graphics card, but I don't like to compromise and the 2080 Ti was another £500 on top, which was ludicrous, especially as the performance increase didn't match the price increase, not even close.
But now it's started causing lockups. I first noticed this a few weeks ago, especially when playing YouTube videos, where the PC would lock up solid with the audio on a fast millisecond loop. Also happens while on the desktop and writing a post like this, for example - not done it yet, lol. These lockups can only be gotten out of by pressing the reset switch, or power cycling.
Suspecting the card, I finally got round to troubleshooting it, so I put in my trusty old 780 Ti for a couple of days and all the lockups disappeared completely. Not even a hint of one. I hammered it with lots of videos too and all played with complete stability.
This evening, I put the RTX card back in and it's fine too, played lots of videos, no problem. Then, just a few minutes ago, I got a lockup while moving the mouse, which inspired me to rant about it.
Unfortunately, I don't have a second PC set up to do a double verify on the problem - see if the fault transfers to the second PC when I fit the card to it, but it pretty much looks like it's the card at this point. What I will do though, is put the CPU to stock, just in case the small overclock is interacting with it and causing the crashes, but I somehow doubt it.
And of course, the problem now is with the shortage of high end graphics cards on the market and the fact that this model isn't made any more, what's gonna happen when I RMA the card under its two year warranty? This is the kind of hassle that I don't need.
So, what is with the quality control on modern graphics cards then? I've been buying them since 2003 and had very few problems until the GTX 1080 series, then suddenly, every card I buy dies at some point. Thing is, I don't see similar reports in the tech forums, so I dunno why this keeps happening to me.
btw, I've checked my PSU with a proper PSU tester and all the voltages are still in spec, so it's not that. It's a quality Corsair HX 850W 1st gen that had an amazing review and has lived up to the hype.
UPDATE 1 - 26.07.2021
After further troubleshooting, it turns out that the problem thankfully isn't the graphics card - remember I was prevented from doing that double verify? That mattered here. Swapping out components can be very misleading sometimes, as this case proved and why a double verify is important. It's still not 100% foolproof though, depending on the exact conditions, but it dramatically increases the likelihood of a correct diagnosis.
I ran a memory test and set the CPU clock speed back to stock, but it still locked up when playing videos.
Turns out it's the sound driver for my Creative Sound Blaster X-Fi Titanium Fatal1ty Professional sound card. This card, excellent as it is, is out of production and software support, with the latest driver dated June 2019. It looks like with the continuing Windows patches and NVIDIA driver updates, something no longer plays nice with this sound driver when the 2080 is used. What made me suspect it?
I noticed that if I cold booted (cold booted means from power off) the PC, then played a video, it would tend to lock up with the fast audio loop, even if it had been on for some time - intermittently, of course. If I then pressed reset and let it boot, it didn't lock up again when playing a video. If I then rebooted it with a normal shutdown and startup sequence, it still played ok. It would only crash when playing a video after a cold boot. It also didn't crash if I powered it up, then signed out and immediately back into Windows and played a video. Why did I try this? I know that the driver is buggy, since the audio has a tendency to start corrupting occasionally, even when playing WAVs, MP3s etc, not just YT videos and doing this clears it.
Also, if I cold booted the PC with my USB headset plugged in, it would work properly there too. Note that the sound card in this instance is the basic one built into the USB plug of the headset. If I then unplugged the headset while the video was playing, it would switch to the Creative sound card and after 10-30 seconds crash again. A sure sign that the problem is with the Creative sound card somehow. I even tried another USB headset with the same results.
The crashes oddly would only happen when playing videos, which aren't particularly taxing for a modern system. I tried Unigene, Furmark (short time only) and a few games, but it worked perfectly with all those. Perhaps it's the DRM in the videos causing the problem, I don't know.
I ran the Creative driver updater, which wanted to install the ALchemy app. Figured nothing to lose even though I don't need this app. Surprisingly, this seemed to fix it for a day, but then the problem returned with a vengeance. Only thing left to do is to try reinstalling the sound driver - same version. Did that, rebooted and it's currently perfect.
Let's see how long it lasts. I'm not calling it fixed until it runs for a really long time without a crash. I'd hate to replace a great sound card that does everything I need just because of an outdated driver.
Watch this space.
UPDATE 2 - 31.07.2021
Well, as expected, reinstalling the same old driver didn't help, as it soon started crashing again. However, I wanted to wait a bit before posting another update, to have a think about this problem.
So, why does it work fine with the old 780 Ti, but not the 2080? What's the one thing that's different about them other than the architecture which basically makes no difference as it's all hidden behind the driver API interface? The 2080 has a USB-C port aimed at VR use, the 780 Ti does not.
I literally never use this port as I don't have any USB-C devices to try out on it, so it might as well not be there, Ok, let's disable the driver, reboot and see what happens: played lots of videos without crashing! Could this be the silver bullet that solves the problem? Maybe, just gotta give it a little longer before calling it.
Again, watch this space. I'll be making a third update regardless of whether it continues to work or not. It will be very short if it does work, though.
UPDATE 2A - 31.07.2021
PC just locked up in the same old way while playing a wav file in VLC. So, it's not just videos that crash it, then. Yet, last night, I gamed on CoD for an hour with no problems. What gives?
The troubleshooting continues. I'm getting pretty sick of this now. I really don't want to have to give up this otherwise excellent sound card.
UPDATE 3 - 30.08.2021
I've finally found a reliable workaround for this problem that I'm going to use as a permanent fix, therefore, this should be the final update.
Turning off fast start-up as in the screenshot below completely resolves the problem. This is proof that the problem is caused by an outdated sound driver, which doesn't have a later version available. Now, why the sound card works fine with fast start-up on with other graphics cards and even this one if gaming, is a mystery. Oh well, at least it's working now and I don't have to replace it yet due to lack of support.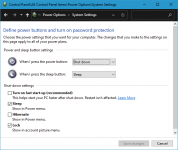 Last edited: