Joined

4 Jun 2021
Messages

4,163 (4.53/day)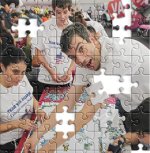 My back aches. I'm sweating. My bladder is sending out distress signals. I've been going full throttle for three hours, and have five hours to go, but I can't slow down. Not when the stakes are so high: I'm representing my country among the best competitors on Earth, sandwiched between teams from Turkey and Bulgaria. I am competing in the equivalent of an Ironman triathlon for assembling little cardboard pieces. No, seriously. I'm representing Team USA at the

World Jigsaw Puzzle Championship

.
This is a great read, check it out.
I was always more of a logic and word puzzler. Yet with just one month's training, my family and I are at the white-knuckle, high-stakes tables of the World Jigsaw Puzzle Championship

www.theguardian.com