Joined

4 Jun 2021
Messages

3,875 (4.57/day)
I tried these casually through my speakers, but they all sounded pretty similar, so it was hard to tell. Closer listening through high quality headphones will be required. It didn't help that I didn't like the music much, either.
See how many you get right.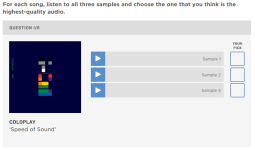 A hi-def test for your ears (and your audio equipment): Listen to these songs and see if you can tell the difference between an MP3 and an uncompressed audio file.

www.npr.org