Joined

4 Jun 2021
Messages

3,875 (4.57/day)
An offshoot of Extinction Rebellion, the original pain in the ass environmental protest group, I'm sick of these idiot protesters blocking motorways by gluing their hands and faces to the road and other dumb antics, causing great inconvenience and distress to thousands. Even if one's cause is just, this isn't the way to do it.
And in this case, do they not know how vital oil is to our modern way of life the world over? Literally
everything
is either made out of it, like plastics, or uses it in some way, no matter how removed that may seem. Oil is a critical component of modern civilisation, so it's not about stopping its use, like these misguided fools want, but using it more intelligently to damage the environment less. If they campaigned for this and less obnoxiously, then I would agree with their cause.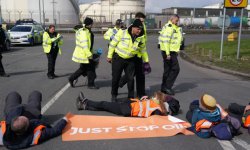 More than 50 protesters who are demanding urgent action to address the climate crisis were sent to jail on one day this week after refusing to comply with court proceedings.

The campaigners, who were appearing before judges at two separate hearings in London and Birmingham, had broken an injunction to take part in a blockade of the Kingsbury oil terminal near Tamworth in Staffordshire on Wednesday.


But when they appeared at the Queen Elizabeth court in Birmingham and the Royal Courts of Justice in London on Thursday, they refused to comply, standing on chairs, turning their backs to the judge and reading out prepared statements about the scale of the crisis.
Campaigners who blockaded Staffordshire oil terminal remanded for refusing to comply with court proceedings

www.theguardian.com