Joined

4 Jun 2021
Messages

3,873 (4.57/day)
Wow this looks good! I've played Portal and Portal 2, both brilliant puzzle games from Valve, the makers of the unfinished Half-Life series. They're in the same universe, in fact and both have excellent graphics for the time which still look good today.
NVIDIA wants to show off the ray tracing capabilities of its latest 40 series graphics cards, so they're releasing this free Portal DLC for them, called Portal with RTX. Interestingly, it uses the brand agnostic Vulcan API, so presumably it should run on AMD graphics cards and even the old GTX cards too. YouTube demo at the bottom of this post.
At the time of writing, it's releasing "soon", so I'll be grabbing it for sure and it should run pretty well on my RTX 2080 SUPER. If you don't have the games yet, they're only £8.50 each, so will fit anyone's budget, hence I highly recommend them.
Here's NVIDIA's product page for it. Lots of dynamic screenshots with sliders for comparing with and without raytracing and the difference is marked.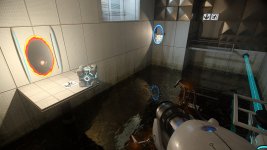 Lot's more screenshots at 1920x1080 resolution at the Steam product page, below.
Experience the critically acclaimed and award-winning Portal™ reimagined with ray tracing in this free DLC for Portal owners. Start thinking with portals, with RTX on. store.steampowered.com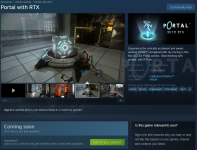 And here's a short YouTube demo of it: