Joined

4 Jun 2021
Messages

3,883 (4.57/day)
With the latest breed to come under the dangerous dogs ban scrutiny being the American XL Bully that's in the news at the moment after one of them mauled someone in England, I've been thinking about my view on the calls for a ban and the existing bans on other breeds like the Pit Bull Terrier, Japanese Tosa, Dogo Argentino and the Fila Brasileiro. I previously didn't favour a ban, as the problem is mostly with irresponsible owners, but now I'm not so sure.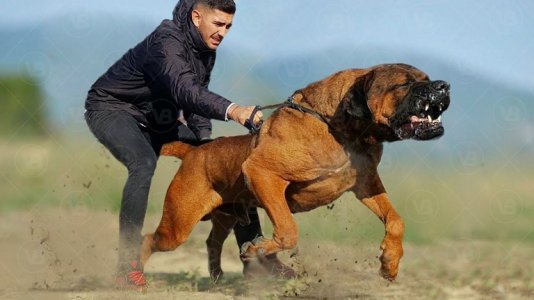 The Japanese Tosa doesn't look at all scary as you can see and is clearly easy to handle, as demonstrated here...
Responsible dog owners have always correctly pointed out that these things happen because the dogs aren't looked after, or treated properly and are otherwise very affectionate and loyal (which I agree with) that they shouldn't be banned. We must remember that dogs have the mental maturity of a small child, no matter the breed, so an attack can be triggered by something as small as jealousy for attention, frustration for an unavailable toy or treat, basically nothing actually serious like obvious abuse, hence the breed must not be banned according to them and I can understand their point of view.
This is why owners must research their breed's characteristics and treat them appropriately, or just don't have one of these dogs, simple as that. Unfortunately, that sometimes doesn't happen, with the unfortunate result that some kid like an innocent 3 year old toddler gets mauled to death for no reason, an awful, senseless and unaccepable tragedy. There's no winners here as the child is dead, the dog then inevitably gets put down and the owner gets done for it. Sometimes other dogs get killed like this, too. But none of this has to happen.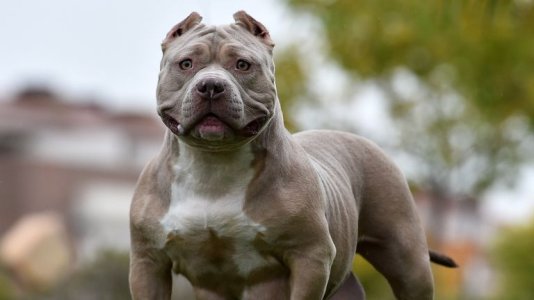 American XL Bully. Not a scary looking dog at all, no...
Now, my thoughts on the matter are that, yes, while the owners screwed up, sometimes animals can just be unpredictable even when all the right steps are taken, triggering such unfortunate events. However, more importantly, these dogs are very strong and have an aggressive streak in them, in ways that something like a labrador or greyhound doesn't, hence such an attack is very unlikely with those breeds even when mishandled and if it happened, the dog may not have the strength or ability to do much damage anyway. Therefore, I think there's merit to the ban of such "dangerous" dogs. Think about it: everyone would agree that keeping a fully grown tiger as a pet should be outlawed due to the animals' wild nature, despite the fact that I've seen them on TV form close bonds with (well-off) humans and live in their homes, due to their size and nature*. Size for size, a cat is a fearsome creature,
much
more dangerous than any dog, which wouldn't stand a chance against it, even one of these hard bastard models.
However, I suggest a middle way, avoiding an outright ban and hence allowing
responsible
dog lovers to still enjoy the benefits of these breeds: stringent requirements on ownership, based on the same principles that require one to have a license for dangerous things like driving a car, flying a jet liner, controlling heavy machinery etc. To qualify for such a license would require things like the following:
Formal evaluation of the prospective owner's temperament, criminal records if any, age, health, general background, financial status, living arrangements / family life, neighborhood etc. Failing any one of these will cause them to be rejected, so the next steps won't apply, but reapplication may be possible depending on the circumstances.
Formal training at approved centres for looking after such dogs, with the training tuned for each breed and an exam with a qualification at the end.
Regular inspections of the dog's wellbeing by accredited officials.
Perhaps smaller refresher tests every few years to check that ownership standards haven't slipped.
Dogs are muzzled when out in public, just in case...
Where the money comes from for such setups is another matter and would have to be voted on and brought in by the government of the day. In the meantime, I think a full ban is appropriate until this system is put into place, since these deaths or serious, life-changing injuries are so unnecessary and unacceptable.
Finally, there's yet another solution which I actually favour over the above, but I'm sure it would be terribly unpopular: thoroughbred breeds of all species, be they dogs, cats, rabbits, gerbils etc tend to come with congenital defects that can cause them to have terrible illnesses and suffering, which is so unfair on them. Therefore, I suggest diluting the breeds, such that every dog is effectively a mongrel and hence much healthier due to the much wider mix of genes. Unfortunately, I doubt that this eminently sensible idea all about maximising animal welfare would fly due to human vanity.
Waddya think? Please let us know in the comments and vote in our poll!
For reference, this is the official government banned dogs site:
You can be fined if your dog is out of control in public - find out about Dog Control Orders, banned dogs, dog fouling and reporting a dangerous dog

www.gov.uk
*Yeah, but I love cats, so would love to be able to cuddle a tiger, get rubbed by one (especially the rubs) and give it belly rubs, just like with our beloved miniature models. I'd be simultanously scared shitless of it!