I'm a PC gamer and everyone knows that the PC is the most powerful gaming platform with the best graphics, but, it does come at a high dollar price, especially the graphics cards... The other downsides are the inevitable glitches and fiddling with Windows patches, drivers and game settings required to make games run just right (hopefully). It's all a bit of an inconvenient faff if I'm honest, something that console
peasants
users usually don't have to put up with.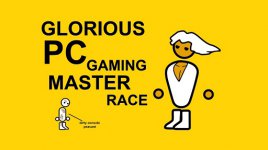 Now, I game online cross platform with friends where it's a heady mixture of PCs, PlayStations and Xboxes in crossplay mode, which is just asking for trouble, bless. And true to form, it's normally quicker and more convenient for the console gamers to be up and running, but this time the PC gaming faff reached new heights.
We hadn't played Call of Duty: Cold War online for several months, but I still kept the game up to date when the patches came out (some were huge) and made sure that it was fully updated before our gaming session the other day. So, the game should run just fine, right? Wrong! Check out this WhatsApp thread of my starting up the game. Inadvertent comedy doesn't get better than this: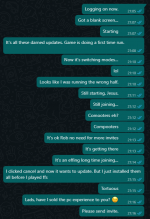 Yup, despite having played the game many times before, it still started up like a first-run game, then had trouble joining the session and overall took over 12 minutes to join the damned session!
Somehow, this glorious superior PC Master Race experience didn't sell it to my console
peasant
user friends, bless. Can't think why.
Thankfully, most games are not such a pain in the ass and CoD is known to be glitchy, so this isn't all that much of a surprise. If anything the game seems to be getting buggier lately and that's affecting my console friends, too. So, for gaming, would I swap my PC for a console? No, of course not, it's still worth it, but I do have a PS4 too for when crossplay isn't available for a particular game.
What's your experience of PC and console gaming?