Joined

4 Jun 2021
Messages

200 (0.24/day)
You may have seen my other thread detailing my efforts to get my A1200 in some sort of good working order. Well, here is my Amiga 600 which also ought to be tested, recapped and cleaned up.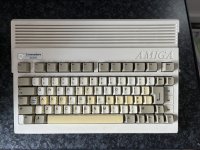 This one isn't in bad condition, I was given this many years ago from a family member so the machine is complete with all accessories etc and doesn't have internal parts missing. It does need a good clean up though and a few of the keys have started to yellow which is a shame. They were all white when I first got it 15 odd years ago
.
Here are a few inside shots of the motherboard. It's revision 1.5. Once fully tested assuming all is ok I also plan to send this one off for recapping.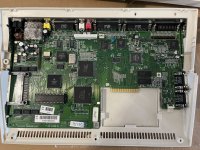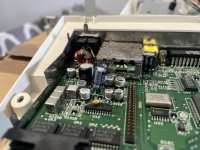 My plans for this one aren't quite as grand as the A1200. There are no plans to transplant this in a Checkmate case. As mentioned I want to get it fully tested, give it a deep clean and carry out any necessary repairs or part replacements. I would probably like to use this primarily for games, say what you will about the A600 but it's a nice compact size and an ideal machine to bring down to club meets. As with the A1200, any basic upgrade recommendations to this end are welcome. I'll be following
@chrisgreen
's A600 thread with interest as well.
Last edited: