Joined

4 Jun 2021
Messages

4,163 (4.53/day)
I was all-in for evergeen "maintenance free" fake grass until I read this article. It's actually an abomination that's spreading across the country, truly worthy of the Twitter protest account, Shitlawns.
With a huge loss of biodiversity, they create lifeless gardens that aren't even maintenance free. Oh and in summer, they're furnaces so you can't even sit out in the garden!
Don't do it, kids. Have a proper garden with real grass, instead.
Artificial "lawns" turn out to be high maintenance after all. They need to be watered to cool them down. They need special cleaning products to get rid of smells and stains. You even have to vacuum them to get rid of leaves.
Last week, Sir James Bevan, chief executive of the Environment Agency, invoked Rachel Carson's Silent Spring and warned of the catastrophe facing Britain's wildlife.

The biodiversity crisis, he said, "poses just as great an existential risk to humanity as climate change", and called for nature-based solutions to reverse shocking declines in wildlife.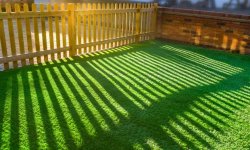 Artificial lawns are higher maintenance than the adverts will have you believe … and they'll burn your feet in this heatwave

www.theguardian.com