Joined

4 Jun 2021
Messages

200 (0.24/day)
Took recipt of these Sky Soundbox's today following a tip from
@chrisgreen
. RRP: £299 for Sky customers, picked them up for £99 each from Ebay in as new condition. One for myself, the other for my parents. Set ours up with the bedroom TV tonight, impressed so far with the sound quality and decent bass. Works well with the FireTV remote to control the volume from a single remote. The FireTV remote also control the power for the soundbar but I've found it a bit hit and miss so far so may need the original Sky remote within reach still.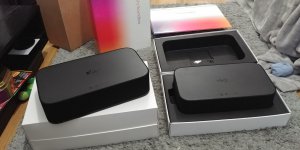 Note you don't need Sky to use this, it's just a soundbar. To get audio from your devices it offers HDMI passthrough (not sure if this is Sky box only though) or a simple optical connection (which I'm using from the output on the TV). Also supports bluetooth (yet to test).
If anyone is interested let me know and I'll send the details of where I got it from if they're still available.