In the good old days, I used to hate football. Seriously, zero interest in the 1980s and up to the mid 90s. Why? Mainly because of the hooliganism and the yobbish sound of the crowd. I really hated that and I have no time for this shit nowadays, either. Plus, I'm quite the techy nerd, so us types aren't supposed to like something cool like sport and especially football, right?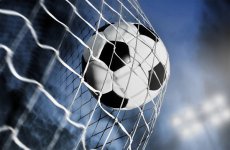 © Mikael Damkier/Dreamstime.com
Then, in the mid 90s, I went over to a friend's house where a Euro 96 match was on, so I watched it with them. And shock horror, I enjoyed it! Oh no!
On top of that, the non-English European crowd didn't have that yobbish edge so much to them either which made a significant difference to my enjoyment.
I didn't have access to Sky back then and a lot of football was shown on terrestrial TV anyway, especially the Euros and World Cup, so I used to watch those games when I could and it felt a little weird that I actually enjoyed them after "hating" football for my whole life. When I couldn't watch them live, I used to record them on my VCR - yup, good old VHS tapes with the blurred, wobbly picture and tapes that tended to get chewed up. I don't miss those days. Our modern DVRs which free us from this and give us a boatload of other features are a godsend that I'll always appreciate, having grown up with VHS recorders.
Fast forward to a few years ago and I took out a Sky subscription. Took the Sky Sports sub at the same time and used to watch some Premier League matches, especially when my team were playing. BT Sport eventually became available on Sky, so I added that to be able to watch more of the matches.
But there is such a thing as too much of a good thing.
In the last couple of years, especially since the covid lockdown in 2020, alas I've gotten much more into footie and find myself wanting to watch most Premier League televised games, along with some Champions League - I'm a lot more selective about that.
While a lot aren't shown, there's still a
lot
of games shown every week, but the problem is that they're such a time sink! It pretty much wipes out anything else I could be doing and on top of that, especially if two or more games are on and football generally needs to be watched live, too. That's two hours plus for each game, including the build-up. Hence, I call it a "tyranny" because of the time investment required. It pushes other TV I'd like to watch out of the way, too. Lately, I try to apply some filters to the games to get some of my time back.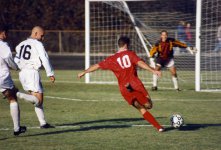 Wikipedia
Thankfully, the yob factor has subsided significantly in recent years although the English crowd still sounds rather yobbish. Families, including the elderly can go to them now in (relative) safety and I've been to several myself, which makes for quite a day out, a real event. Those nasty, violent people are still there though, so one must still be mindful of this, but they're much less of a threat than back in the 1980s and earlier, thankfully.
One thing that annoys me about the game are when allegedly "professional" players get into altercations over a foul or whatever and start squaring up to each other, pushing and shoving and in rare cases actually fighting. Seriously, these people are paid wages that most of us can only dream of, some over a
million
pounds a month for kicking a ball around, so this behaviour is completely unacceptable. This happens a lot, so I think more red cards should be issued for this behavior which would help to reign it in greatly.
Do you find yourself watching too much of a good thing, whatever that might be? Oh and don't get me started on box sets with hundreds of episodes... at least those don't tie me down to a time though.
Finally, why exactly is football called soccer in some places? This all-important question is answered here:
One of the best-known differences between British and American English is the fact that the sport known as

football

in Great Britain is usually called soccer in the United States. Because the sport originated in England, it is often assumed that

soccer

is an Americanism. In fact, the word is thoroughly British in origin. So why is it that Americans (not to mention Canadians, Australians, and others) are likelier to use the word than Brits are? The answer lies in how the sport developed in each country.