Joined

4 Jun 2021
Messages

4,163 (4.53/day)
Now, this one's very high on the nerd scale.
Klein bottles are actually 4D objects, so all we can see in real life are 3D shadows of them, like the physical glass one in the picture below. The intersection that we see isn't actually there in 4D space. Action Lab explains it all in the video below. Fascinating stuff.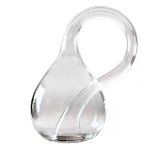 The 4D Toys app used in the video is available for PC and smartphone, below. I've got a copy and found it to be intuitive and mindbending at the same time. Well worth the price of admission.